For sellers
One of the essential benefits of the BlinkS platform will be an expansion of the pool of potential clients. BlinkS will open up the market to new players, overcoming the significant relational and technical barriers that exist today, and attracting new potential buyers, who will be offered clarity on data quality, timing certainty, reduced effort and lower due diligence costs.
With the auction procedure, the BlinkS platform will make the transaction process much more linear and transparent. The system will eliminate the preliminary bidding stage and all subsequent negotiations, allowing only binding offers, whose prices will be visible in real time to all users.
The industrialization of the sale process, with standard sale times and procedures consistent with the procedures and standards typical of public transactions (e.g., data tapes used in transactions with the GACS guarantee), will enable sellers to plan NPL portfolio warehousing with precision, for strategic organization of sales of recurring NPL flows, in line with the ECB Addendum.
The BlinkS auction system will encourage higher prices by guaranteeing real-time visibility of the highest bid for all users and putting buyers into direct competition with one another. Again with a view to speeding up the transaction process, the platform will offer investors a "buy-now" option to purchase a portfolio or single position at a price set by the seller.
NPL portfolios will be published on the BlinkS platform through the uploading of a market-standard data tape, which will guarantee a minimum level of information for correct valuation of the portfolios and a general improvement in portfolio quality, driving greater awareness of the real value of each portfolio. The BlinkS platform will also make available services provided by third-party partners to accelerate sales, such as data remediation, support for portfolio preparation, validation of data consistency, etc.
BlinkS will be a transparent, reliable and accessible outlet for all banks, providing structured management above all for smaller players, who today handle their NPLs on a "home-grown" basis.
For buyers
Investors using BlinkS will be able to select NPLs of interest online, using search engines that filter by asset class. They will also have the opportunity to purchase individual positions as well as large portfolios, depending on their specific needs and requirements.
The BlinkS platform is designed to facilitate the construction and sale/purchase of portfolios matching market appetite and, specifically, buyers' specialization.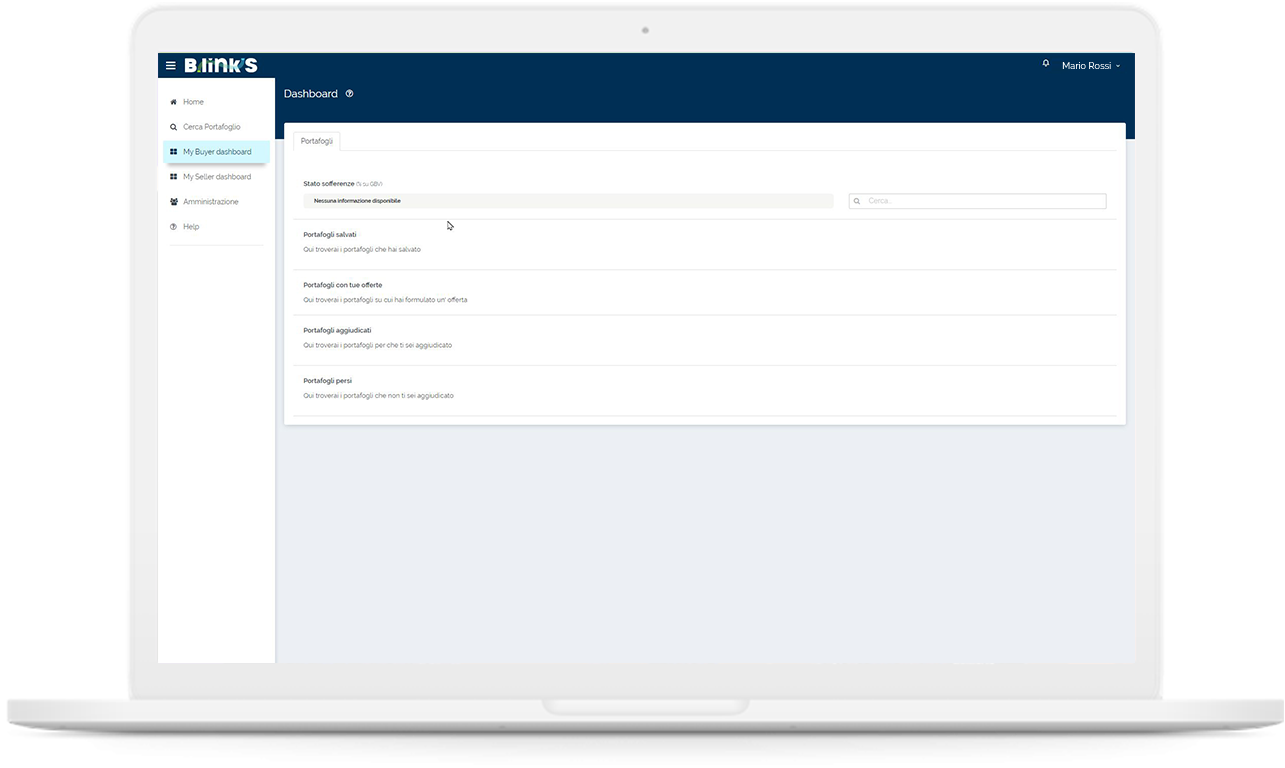 The minimum level of information on the platform, the indication of data quality through a rating and the availability of a simulation engine whose parameters can be personalized by the user will make significant reductions in due diligence costs possible and enable better informed offers to be formulated.
BlinkS will improve the access to smaller players to a market that today, purely for relational reasons, is totally closed to them.
By enabling exclusively binding offers to be drawn up, both as bids and on a "buy-now" basis, and eliminating the traditional two-step process (non-binding offer, binding offer), BlinkS will foster a more streamlined purchase process characterized by certain times, greater transparency and speed, keeping delays caused by negotiation to a minimum.
For the system
The Italian NPL market will reach record transaction volumes in 2018, in excess of 70 billion euro. 2018 has seen a significant decrease in the levels of impaired loans on Italian banks' balance sheets as a result of the large numbers of sales during the year.
At June 2018, the gross value of NPEs was 222 billion euro, compared with 264 billion euro in December 2017, well down on the 2015 peak of 338 billion euro.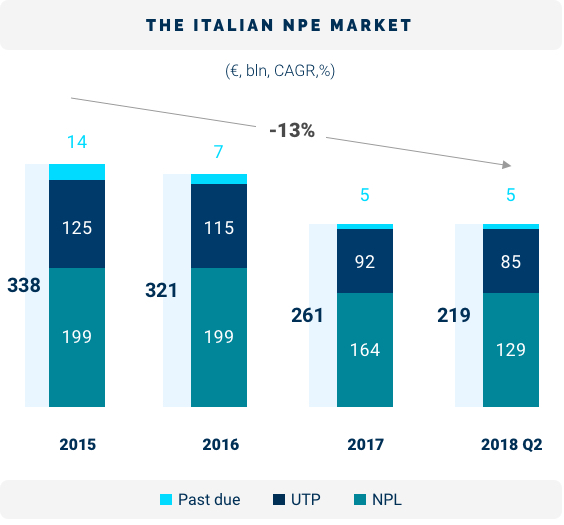 Elaboration Monitor Deloitte
NPL divestments are expected to be significant in 2019 too, with an estimated value of at least 50 billion euro. Under pressure from the regulatory authorities, Italian banks have been implementing strategies to achieve greater industrial efficiency in NPE management, and this will continue in 2019.
Nevertheless, Italy's NPL stock levels are still very high, accounting for around 20% of the European market. Furthermore, the new regulatory reforms (IFRS 9, ECB Guidance on NPL, ECB Addendum, AQR, Guidelines on management of non-performing and forborne exposure) are driving a rapid reduction and effective management.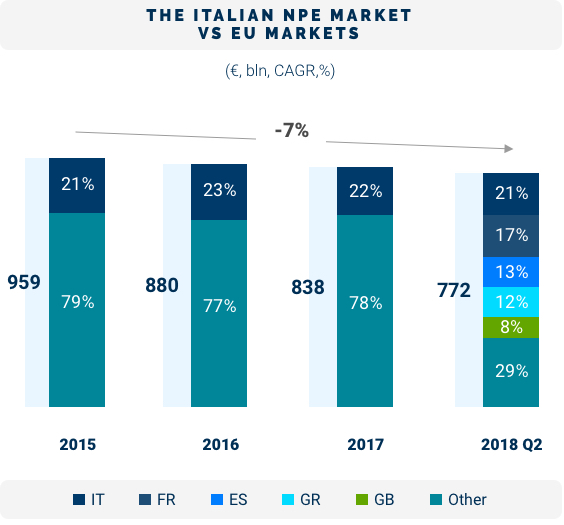 Elaboration Monitor Deloitte
As the ECB has observed on a number of occasions, a solution is required to make the distressed asset market more liquid and dynamic, with a particular focus on the creation of a fully-fledged secondary market.
There is an obvious need for a more fluid and effective market, where banks can trade newly-generated NPL flows on a regular basis.
Although transactions with the State's GACS guarantee have made a significant contribution to the reduction in NPL stocks, there has been no substantial review of existing sale processes.
Current industry practice sees banks having to trade with a very limited number of potential investors, who enjoy obvious bargaining power, but, equally, find themselves investing in a context characterized by:
heterogeneous clustered portfolios poorly matched to market appetite
lengthy judicial procedures and high barriers to entry linked to the need for significant technical expertise and adequate resources
costly and, often, low transparency in due diligence and bidding processes sustained by buyers
substantial information asymmetry, due to a lack of reliable data and standardized information and documents on impaired loans and related guarantees.
As a result, purchase prices are heavily discounted with respect to bank expectations (pricing gap), with the average offer significantly below the real value of the portfolio.
This new scenario is creating the conditions for development of a more liquid, transparent secondary NPL market that appeals to investors and narrows the pricing gap. This will generate benefits not only for stakeholders, but for the country system as a whole, a situation regulators have been pressing for, most explicitly in the November 2017 Financial Stability Review.
BlinkS is the most transparent, liquid and efficient response to the requirements emerging in Italy.